09:05, 09 November 2023
"Metal-Expo'2023: Highlights of the First Exhibition Day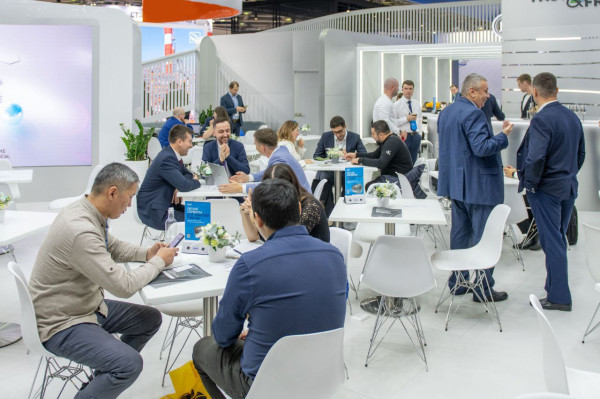 The Metal-Expo'2023 exhibition started in Moscow"s Expocentre, was loud and busy today - over 6 thousand people visited it on the first day. Tomorrow the influx of visitors will increase – high traffic is expected, as on the second day of the metallurgists' forum it is usually visited by two times more specialists from metal consumption sectors related to metallurgy.
On November 7, the Coordination Council for Industrial Policy in the Metallurgical Complex under the Ministry of Industry and Trade of Russia was held at Metal-Expo'2023. During the performances of the meeting participants, heads of leading companies in the industry, discussed topical issues - import substitution of equipment, cluster investment platform, state support, pricing formulas, etc.
The scientific and technical seminar "Zinc - protection against corrosion" was held, where the state of affairs in the field of hot-dip galvanizing of steel structures was analyzed and the results of the recent trip of industry specialists to China to get acquainted with the technologies were summarized. The round table on robotization and artificial intelligence discussed the problems of industrial AI to improve the efficiency and safety of production. The coming era of neuromodernity was also discussed at the conference dedicated to industrial advertising and marketing channels for product promotion. Import substitution issues were discussed at the meeting of the Committee on Foundry and Forging and Pressing Production of the Committee on Metallurgy and Heavy Engineering of the Russian Engineering Union. Two more events were devoted to expanding the usage of metal products in the construction sector.
On November 8, the Metallurgists' Forum will hold about 15 events, which will be attended by over 2,000 specialists. Under the auspices of the Ministry of Industry and Trade of Russia there will be a meeting on the Interindustry Program for the development of new types and improvement of the quality of metal products for the automotive industry, a round table of manufacturers of galvanized and painted rolled products, a meeting of the Expert Committee on Metallurgy, Heavy Engineering and Mining of the State Duma Committee on Industry and Trade and a number of other events, including the awarding of the winners of the Metal Vision'2023 contest.
By the end of the week, Metal-Expo'2023 will become an expert platform where metallurgists will talk about Russian technologies, share their experience and best practices. Read more in the video interview with Alexander Romanov, Chairman of the Metal-Expo Organizing Committee.