14:00, 06 July 2022
Metal-Expo'2022 to Become New Partnership Platform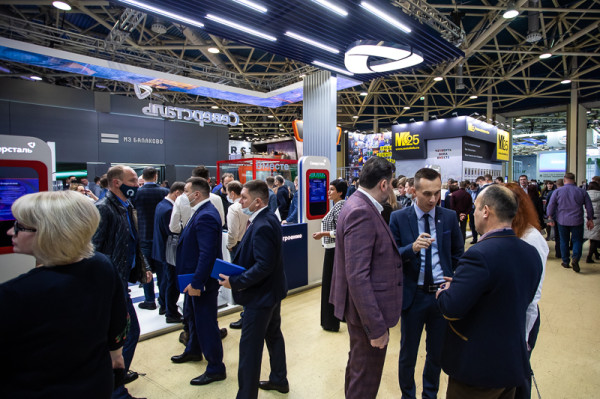 Metal-Expo'2022, the 28th International Industrial Exhibition (November 8-11, Expocentre Fairgrounds, Moscow, Russia) will exhibit the whole range of ferrous and non-ferrous products, as well as the most state-of-the-art steel equipment and solutions. The main task of the event is reconsidering business strategies of steel companies and establishing new partnerships under new market conditions.
Metal-Expo'2022 will be organized in three spacious halls at Expocentre Fairgrounds: halls 2 and 8 will exhibit leading ferrous and non-ferrous producers, while hall 3 will host MetallurgMash, an exposition for suppliers of the most state-of-the-art equipment and innovate solutions to the steel industry and metalworking. Among the visitors will be end-users of steel products from construction, heavy-engineering, fuel and energy complex, transportation, logistics, steel trading etc.
This year leading ferrous and non-ferrous producers, engineering companies, tubes and pipes producers, steel structures and wire-mesh products manufacturers and steel service centers among them MMK, TMK, Severstal, OMK, NLMK, Metalloinvest, Novostal-M, UMMC, Zagorsk Pipe Plant, TEMPO, Uraltrubprom, NVTZ, Asha Steel Works, Electrostal, Zlatoust Metallurgical Works, Aluminium Metallurg Rus, VSMPO-AVISMA, Stupino, Akron Holding, MMK-METIZ, Severstal-Metiz, Electrostal Heavy-Engineering Works, Metallinvest, Byelorussian Steel Works, Aktobe Rail and Section Works and many more will arrange massive expositions at Metal-Expo'2022.
Today's steel business operates under totally new conditions facing different challenges. There is no time for procrastination, it is time to move on, find new markets, arrange new logistic chains, as well as create and use new production and financial tools. "Such situation makes Russian companies develop own productions and use new import-substituting technologies. The domestic market sees new demands to be met encouraging many businesses to ramp up development. There is a need to find new suppliers of auxiliaries and spare parts and restore broken production and logistics chains. I believe, by autumn we will see many Turkish and Asian (mainly Chinese) companies interested in establishing mutually beneficial cooperation in the Russian market", stated A. Efimov, General Manager of Metal-Expo International Exhibition.
The today's economic mobilization happening at many steel corporations establishes a new type of partnership which presupposes quick decision-making, taking on risks, and last, but not least, mutual trust. An extended conference program organized in parallel to the exhibition will, among other things, facilitate establishing such partnership. Industry professionals will have an opportunity to discuss states of things in the steel, construction, logistics, power-engineering and other industries and present modern solutions and new projects.
The conference program will include more than 50 events (seminars, presentation, round tables etc.) on the most pressing problems of steel business among them use of new materials and solutions in the ferrous and ferrous industries, secondary resourcesв, standardization of rebar steels, galvanized and pre-painted steel products, new types of steel products for the automotive industry and medicine, additive and 3D solutions, steel structures and wire-mesh products markets, marketing in the steel industry, IT-solutions, corporate communications etc. Due to the conference program 4k more professionals from construction, power-engineering, transportation, logistics etc. will attend the steel exhibition to find on its platform solutions to products supplies, technical support and service.
Key industrial unions and institutions will organize own events on Metal-Expo'2022 platform. Thus, traditionally, the Steel Industry Coordination Council by the Ministry of Industry and Trade of the Russian Federation will hold a meeting to discuss the most pressing problems of the steel industry. Winners of a number of competitions among them The Main Event in the Russian Steel Industry'2022, The Best Russian Sales Network and Steel Service Center'2022, Young Scientists etc. will be awarded at Metal-Expo'2022. Some winners will even be awarded gold and silver medals for the most prominent achievements in the ferrous and non-ferrous industries and modern steel industry equipment manufacture.
Metal-Expo'2022 as a business platform provides steel producers and their subcontractors a perfect opportunity to meet together, find solutions to many business problems and sign cooperation contracts. Metal-Expo is one of a few Russian exhibitions visited by decision-makers and steel company leaders. The event as a tool helps them stay updated, establish new partnerships, and find new ways of business development.
Metal-Expo'2022 exposition arrangement is currently underway.
Welcome to attend Metal-Expo'2022, the 28th International Industrial Exhibition, November 8-11!
For reference: Metal-Expo is a member of the Global Association of the Exhibition Industry (UFI) and the Russian Union of Exhibitions and Fairs. Metal-Expo events are annually audited by an independent auditing company. The event is endorsed by the Ministry of Industry and Trade of the Russian Federation, The Government of Moscow, Russian Union of Industrialists and Entrepreneurs, Trade and Industrial Chamber of the Russian Federation, Russian Steel Partnership, Russian Union of Metal and Steel Suppliers, Metallurgmash International Union, Russian Engineering Union, SCDA, Pipe Industry Development Fund, Prommetiz Association etc.