15:19, 09 November 2022
Bardin Central Research Institute of Ferrous Metallurgy and MMK Sign Agreement on New Alloy Development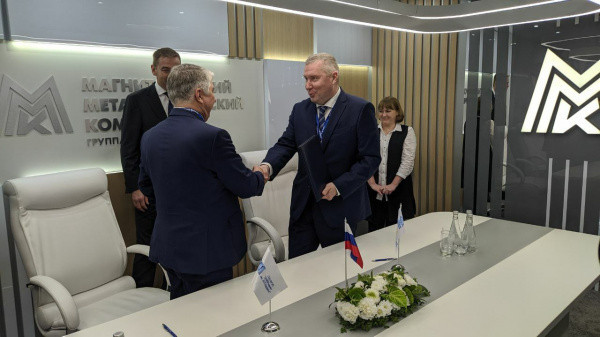 PJSC Magnitogorsk Iron and Steel Works (MMK) and the Bardin Central Research Institute of Ferrous Metallurgy (TsNIIchermet) have signed an agreement on the joint development of new metallurgical materials and alloys.
The agreement was inked on 9 November at the 28th International Industrial Exhibition Metal-Expo, with Victor Evtukhov, State Secretary and Deputy Minister of Industry and Trade of Russia, taking part in the ceremony. The agreement creates new opportunities for MMK and its partner to develop alloys that are in demand across various sectors of Russian industry, including within the framework of import substitution.
MMK and TsNIIchermet already have an extensive track record of joint work and successful product development, including for the automotive industry, which has been repeatedly recognised by the Metal-Expo organising committee. For example, in 2021 the partners were awarded a gold medal for their joint development of cassette technology for the production of high-strength cold-rolled and hot-dip galvanised sheet metal of different types and strength categories using steel of a single chemical composition. These rolled products stand out for their enhanced ductility and stampability, among other technological and service properties.
The latest agreement on the development of new materials continues the strategic cooperation between MMK, one of the leaders in the Russian steel industry, and TsNIIchermet - a leading industry research centre for ferrous metallurgy in the country. Last year, the parties agreed on a programme of initiatives to modernise MMK's production facilities and expand its portfolio of orders for the supply of equipment to the market until 2025. The programme includes the further development of the Company's technological processes and the design, manufacturing and supervised installation of equipment at MMK's production facilities.